19 April 2021
Stay open for business with the eqWave social distance and contact tracing wearable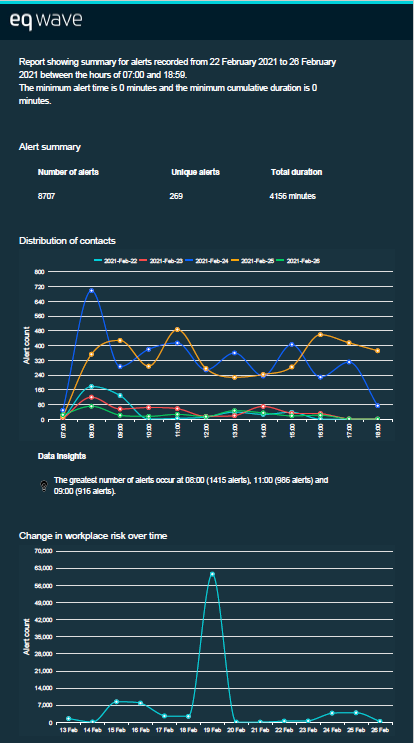 Containing cases of COVID-19 in the workplace is the first step to ensure that you can stay open. To do this, you need to know who has been in close proximity with one another, the duration and frequency so that you can take action and adjust your operational procedures according to government guidelines.
The eqWave solution offers social distancing, management reporting and contact tracing to help you identify opportunities to improve social awareness measures, isolate those who have been in contact and remain open for business.
The GDPR-friendly management and contact tracing reports are available in the web application.  We have been working hard at enhancing the reports to allow for faster access to your data so that you can understand the proximity patterns of your staff members and take appropriate operational action. Should a positive case be found, you can also act quickly to isolate only those who have been in contact with that employee.
The latest reports:
Give a bird's eye view to review compliance guidelines and the change to your organisation's risk profile over time. For example, where you should focus compliance initiatives.
Offer actionable insights – the reports provide actionable data on how specific targeted actions can have significant impact in reducing risks and improving compliance.
Are graphically displayed so that you can quickly view alert data and take away insights and actions.
Allow faster downloads of your data. This, in turn, offers greater analytical capability within the eqWave application.
Can be emailed in pdf for easy sharing.
Social distancing is here to stay for the near future. We want to help you keep your business operational while we have to keep our distance. Get in touch today to book a demo, email us or call us to find out more.